Originally published April 30, 2017
Over the past month, I have been working towards a book signing arranged for me by Greta King, a magical marketing agent. My debut run at this activity was at Barnes and Noble on Black Lake Blvd in Western Olympia, Washington. Since my book is about caregiving and the things one must learn to live with a loved one with dementia, I chose to expand my influence.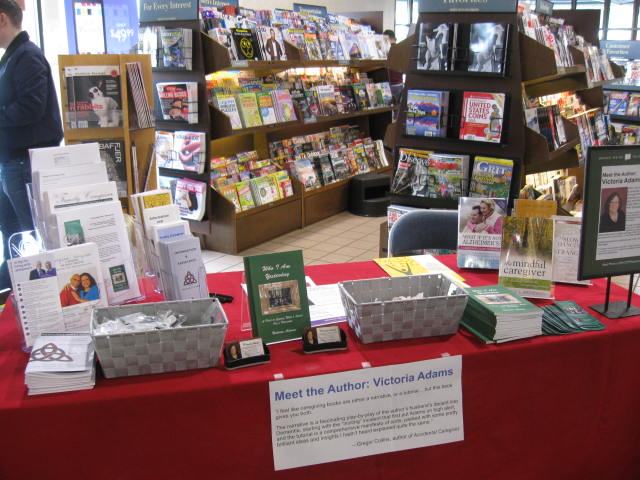 I spent some time in the offices of Council on Aging in both Aberdeen and Olympia, and collected a substantial amount of literature about support groups, resources, and organizations. That collection followed me to the signing, and will become a permanent part of any signing or speaking engagement I secure in the future.
In addition, I put together a short that included several book titles, and links to sources of clothing, medical equipment, and care supplies. That guide is available here. My list of reading material includes the literature provided by the Council on Aging, along with links to acquire additional information. Even if SW Washington is not where you live, the list is broad enough it will provide a starting point to locate support closer to home.
My local newspaper also published a brief article about the event and something about my book.
For this event, Barnes and Noble used my resource list to locate titles within their store that might be of help. These became part of my display. The store management was very gracious and mentioned several times how happy they were to be a part of my mission to inform, to comfort, and to share.
Then, of course, the event. Yes, I sold a few books. The store will continue to stock my book, at least for a while. I also had a chance to talk with people who needed and wanted what I had to offer. One group of ladies had traveled to hear me speak and when they realized I was not speaking, asked for contact information so that they could invite me to speak to their group. They left well supplied with materials, a signed copy of my book, and a few answers I could offer based on my own experience.
Another lady stopped in mid-stride as she came through the door and announced she had just decided she needed a cup of coffee and had no idea why; until she saw my table. Again, after having a cup of coffee and reading through a few things, she left well supplied with information, and a signed copy of my book.
John McBride, from the office of the Lewis-Mason-Thurston Council on Aging, stopped by with his wife to get my autograph on the copy I had left with his office. From what I hear, both his office and Aberdeen may be contacting me about acquiring more copies for their people and to share. There are also hints of a speaking thing or two in the future.
I would say, all in all, the event was a success. I know I thoroughly enjoyed meeting the people that stopped to say hi and talk (or grab a bit of candy). I think I will be a welcome guest at the store in the future, and I have made contacts that may well expand my reach and my ability to share. Not a bad start; not bad at all.
Choose to Dance—find the way that clearly defines your needs as a caregiver, and the needs of the person being cared for—and dance to your own tune.