Originally published November 9, 2016
It is difficult, when you are building a public face, to know how and when to respond. As an author, I do have to consider the public; but I also must remain true to my own beliefs; beliefs and positions well documented throughout this website. So, here goes my interpretation of where we are the morning after.
Perhaps this election may finally force us to look in the mirror, to see what America has become without make up, the pretty clothes, whitened teeth, and brushed out hair. It is time to look closely at what a night of drunken, unleashed anger and hatred has done to us. We have elected a golden calf. Yes, I am serious, we elected what we "perceived" to be a savior, a hypnotic rush to "something different" rarely stopping to check out anything on either candidate that did not fit in with our established worldview. We do, indeed, deserve that which we have created.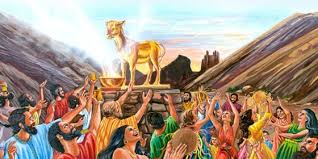 There is, of course, the question of the popular vs. the electoral vote and the discussion has arisen for many years about the modern usefulness of the Electoral College. What is important to understand is that the Founding Fathers created a republic, a union of states, not people. Each state had its own history, personality, needs, and desires. Canada pulls this off better than we do, but then they are younger as a country. The provinces have retained their personality and commerce between them can be an interesting affair.
The point is that the founding fathers did not want the states with greater populations to overrule the states that were sparsely populated. Therefore, we have a senate based on 2 representatives for each state and a house based on population. The number of folks in the electoral college is determined by the total number of representatives and senators each state has. The rules for selection vary from state to state—but that was the point. When you vote for president, you vote for a representative of the College that usually follows the sentiment of his or her state, but not always. This is a representative form of government—not a democratic form.
As to this election, we were in a logical conundrum that had few good outcomes. If Hilary won she had to have a Democratic (or, at the very least a sympathetic) Congress or absolutely nothing would be accomplished in the next four years. I mentioned to a Canadian friend that she may have had difficulty getting her laundry done. By the time the polls closed on the west coast last night, we knew that we were again faced with a few hundred people who take pride in NOT doing their jobs. Hillary's battles would have been exponentially worse than anything Obama has faced in the last eight years. At last count, the Federal Judiciary has some 103 vacancies with 59 nominees pending. That's just the Judiciary. There are also several directorates that are vacant simply because a Republican Congress didn't choose to do their jobs. And this is only the tip of the iceberg of "things undone." This is not a way to run a country.
Now, we have another scenario. If rumors are true and Trump the Salesman only used the theatrics to get elected and he intends to be a more moderate president than indicated, he will be a disappointment to his base. And that is a real problem. He has awakened a dragon in this country and it will not be easily subdued. His acceptance speech notwithstanding (I watched the first third or so), this campaign was all about hatred. Hatred of other races, immigrants, gays, liberals, Hillary, and women. I know that there is a large piece of his constituency that voted for him based on their own, logically supported reasons, but the loudest part of that crowd is fueled by anger. That does not bode well for us or the world.
If Trump faces real problems in his upcoming court appearances, we are no better off. We are left with Mr. Pence. Mr. Pence is one of the most dangerous creatures known to man—a true believer.  True believers are not interested in facts; they are interested in commitment to a world constructed in opposition to evidence and reason. There are no wins here.
The point is, this country is seething with hatred. We cannot survive on a diet of hatred. We just can't. If we are to change our direction, if we are to slay the dragon within us, we must start today to create the atmosphere, and the qualified base, to take back our public institutions. We need people willing to work, to do the jobs our founding documents require of them.
We also need compassion. I no longer wish to call myself Christian in public because of what the public face of Christianity has become. I am, however, deeply committed spiritually. It is because of that commitment I will not surrender to the forces that swirl around me. My writing, my life, my voice will not be silenced. I will continue to support my fellow beings on this planet, regardless of race, religious faith (or lack thereof), or sexual orientation or identity.
Now I must prepare myself to respect the office, even if I cannot respect the man who holds it.